"I've been fighting to survive for too long. I don't even want to fight. I just want to live, to be free without fearing that brand on my forehead. I want the right to love and wander around cities without being seen as a monster. I'm still human, am I not?"
Genivosa Hawke is a mage apostate who escaped Lothering during the Blight with their younger siblings and mother. They moved to Kirkwall later on with Aveline Vallen and what remained of their family and later on becomes the Champion of Kirkwall.
Genivosa has brown skin and dark hair and eyes. They have a slim figure and stand at around five foot six. During the prologue, their hair is shoulder length with sideswept bangs that often got in their eyes.
During Act I, Genivosa's hair had grown long enough to tie into a ponytail and is reminiscent of Leandra's hairstyle, this is mostly due to the fact that Genivosa isn't skilled at braiding their hair or maintaining elaborate hairstyles and opts for the easiest and most manageable styles they could.
In Act II, Genivosa changed their hair
Genivosa is diplomatic and is prone to attempt to find peaceful resolutions to various problems. They often try to befriend others though sometimes such overtures and gestures are not welcomed.
Born to Leandra Amell and Malcolm Hawke, Genivosa is the eldest of four children. They were born when Leandra was only twenty-three years old which came as an abrupt surprise for the couple. Due to this, Leandra saw Genivosa as a bit of a disruption to her fairytale with her husband. Regardless, Leandra adjusted to her role as a mother the best way she can.
When Genivosa was two, Carver and Bethany were born and though Leandra was not yet as experienced with childrearing as she hoped, she had a better grasp of it than when Genivosa was still a child. Not only that, but while Genivosa's features favoured their father more, Bethany and Carver's features favoured Leandra. Though there was no malice meant in her, Leandra found herself favouring the twins more.
At six years old, Genivosa already began showing some signs of bearing magic. Though they didn't understand what they were capable of doing, they had an immediate sense that it was wrong when they saw Leandra's horrified expression and they immediately ran to their father to try and find a way to stop themself from making anything else that might upset their mother.
At seven years old, the youngest of the Hawke children, Aemilia, was born. Aemilia resembled Malcolm and Genivosa as well and for the first few days, while Leandra recuperated from the birth, a seven-year-old Genivosa would take over with taking care of their baby sister while Malcolm handled the twins.
They had escaped Lothering during the Fifth Blight and had managed to find refuge in Kirkwall through the questionable aid given to them by their uncle, Gamlen Amell.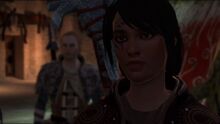 WIP
WIP
WIP
WIP
WIP
WIP
WIP
After Dragon Age: Inquisition

[

edit

|

edit source

]
WIP
WIP
WIP
WIP
WIP
WIP
WIP
WIP
WIP
WIP
WIP
WIP
WIP
WIP
WIP
WIP
WIP
Community content is available under
CC-BY-SA
unless otherwise noted.