Brandon "Bran" Hawke is the eldest son of Leandra Amell and Malcolm Hawke, as well as the Champion of Kirkwall. A Fereldan refugee, Bran received recognition in 9:34 Dragon for his part in ending the Qunari incursion in Kirkwall, where he faced the Arishok in single combat. A kind and charitable man by nature, Bran worked to protect both his family and friends, and strove towards a solution that allowed for a world where mages and non-mages could co-exist more easily together.
Overview
Edit
Physical Appearance Edit
Personality Edit
Too good for this world, too pure.
Talents and SkillsEdit
Biography
Edit
Post-game Edit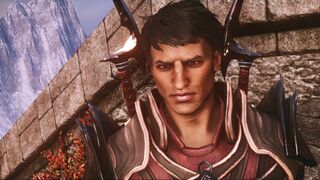 Relationships Edit
Malcolm Hawke Edit
Leandra Amell Edit
Bethany Hawke (Friendship) Edit
Carver Hawke Edit
Fenris (Friendship → Romance) Edit
Aveline Vallen (Unrequited Crush → Friendship) Edit
Varric Tethras (Friendship) Edit
Isabela (Rivalry) Edit
Merrill (Friendship → Rivalry) Edit
Anders (Friendship) Edit
Sebastian (Friendship) Edit
Miscellaneous Edit
Reddit Headcanon Threads:
Edit
Reddit Writing prompt Threads:
Edit
Non-Reddit links (AO3, DeviantArt, Tumblr):
Edit
Community content is available under
CC-BY-SA
unless otherwise noted.